As featured in: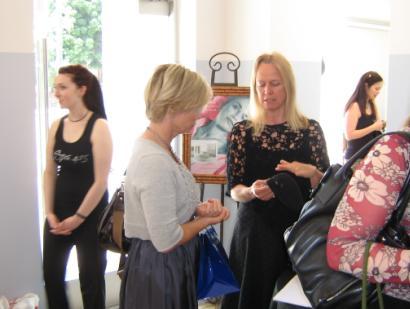 is People / Earth Friendly
Our company is proud to be an associate corporate member of the World Federation of Chiropractic (WFC). We joined the WFC because we are committed to the growth of your great profession at the international level, and wanted to contribute as partners for the future. You can find our company listed on the WFC website www.wfc.org under WFC Corporate Associate Members.

is a natural sleep aid and sleeping pill substitute, which uses the body's own system to modify the wearer's brain waves to allow sleep to occur naturally.

is super soft, weighs less than 25 grams, is electronics-free and can be worn comfortably all night. The wearer simply looks up and down a series of photoluminescent bars while blinking and breathing normally. It needs no prescription, no insurance authorization and is reasonably priced.

is also ideal for relaxing the mind during treatments, alongside steam packs, EMS, ultrasound or hydromassage, to increase the effectiveness of the treatment and make it hold longer. It is also beneficial for your patients in traction, or those who are recovering from surgery to ensure a good night's sleep, which may help them heal faster.

is completely natural, so it does not cause memory loss or headaches. It is also great for 'power naps' during breaks, for practitioners and employees to re-energize.
Our mission is to introduce an innovative way of relaxing and sleeping to those who have problems in these areas. Our goal is get people away from sleeping pills and into a natural and healthy alternative, and we have many testimonials from people of all ages and from various professions, who have sleep issues, such as doctors, nurses, firefighters, police officers, teachers, celebrities, CEO's, children and moms and dads, who have found the

to be beneficial.
We are a triple net company that not only believes in the health of the individual, but also in the health of the planet.

masks are manufactured in a medical-grade facility where fair wages and benefits are paid to its workers. And, as our natural sleep aid can be used over and over again, there is no repeat packaging to go into landfills, and the carbon cost of repeat prescription manufacturing and transport is lost. The cardboard packaging is completely recyclable, and by using a

mask, there is no sleeping pill 'residue' to be flushed into the water table and then into the public water supply.
We also support many charities in the United States and have donated a large quantity of

masks to the Veteran's Administration, the Kidney Foundation of Southern California and the Second Harvest food program as sponsored by the National Football Leagues Taste of the NFL.
The

is currently sold worldwide via the internet at locations such as Sleep-Alternatives.com, ToolsForWellness.com, drugstore.com, LiveScience.com, BedBathandBeyond.com and Amazon.com. The suggested retail price of the

is $39.95.
Thank you for your time, and please send any questions that you might have on the

to me personally at lisa@glotosleep.us.
Sincerely,
LISA
614 Brewington Avenue
Watsonville, Santa Cruz County, CA 95076, U.S.A
Personal telephone: +1. 831 840-3729

Celebs


Melanie Griffith


Samuel L. Jackson


Carrie Preston


William Shatner

Robin Antin

&nnbsp;